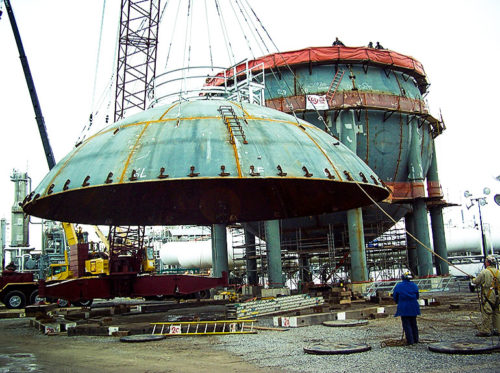 Conrex Steel Ltd. (Toronto and Kingston) is a North American based company providing world-wide service. With over 150 years of engineered driven expertise Conrex Steel is a recognized leader within the tank head industry. With Conrex Steel's unique head forming, fabrication and heat-treating capabilities, we offer a diversified range of products. Head diameters begin at 6 5/8″, with few dimensional limitations on large, segmented constructions. Pressure vessel heads and tank ends are available in a broad range of sizes, shapes, thicknesses, and material specifications. A unique aspect of the capability to form heads is that it is largely still a production floor skill. Know-how and decades of experience by dedicated upper management, engineers, and employees within the Conrex organization is what sets us apart from other companies. Combining skill, proficiency and experience with machinery, technology and state-of-the-art facility ensures our continued success in providing our customers with customized, high-quality products and services. We are a custom fabricator known for quality, accurate lead times and outstanding customer service.
Conrex Steel Ltd. is looking for a dynamic Sales Representative who is preferably located in Vermont, Michigan or NY State, who is highly adaptive to current and new markets ensuring profitable growth across our diverse product offering. This individual will be working an underserviced territory with the objective of securing stronger relationships while educating our clients on our new capabilities.  This person is a strong communicator with a positive demeanor, a self-starter, that is goal driven and has an appetite for success.
The successful candidate will possess or exceed the following criteria:
Responsibilities:
Maintain and grow new and existing clients in accordance with the company's growth plan year over year.
Service existing accounts, and establish new accounts by planning and organizing a daily/weekly call schedule to execute on existing or potential customers
Manage and track large project opportunities through the life cycle and know all partners involved.
Manage a defined territory through regular field calls.
Maintain weekly goals of new business development calls, Top Tier reoccurring calls, and follow up lead development calls and quote/inquiry follow up.
Perform Annual Business Reviews with top 10 customers each year.
Keep management informed by submitting activity and results via weekly call reports, CRM entry, weekly one on one meetings with direct report.
Maintains professional and technical knowledge by participating in firsthand training, establishing connections with key personnel within the organization
Works closely with Estimators/Customer Service to ensure all customer expectations are met.
Cold calling potential customers both by phone and in person
Communication coverage for other reps during vacation.
Monitor competition by gathering current marketplace information on pricing, products, new products, delivery schedules.
Strong written and verbal communications with both internal (employees) and external customers
Contribute daily to the overall success of the team.
Qualifications and skills:
Minimum 5 years' experience in a territory management role
Excellent communication and negotiating skills
Experience with CRM tools
Strong Presentation skills
Strong working knowledge of Outlook, Excel, PowerPoint, and other Microsoft Office programs
Steel/Manufacturing experience or similar field an asset
Experience with custom life cycle project sales (4 weeks to 6 months)
Self-starter with strong organizational skills
Able and willing to travel (35% a month) either by car or plane depending on trip and cost to travel, holding a valid passport (local and abroad) and driver's license.
Reporting to – North American Director of Sales
Strategic Team –
VP Engineering, Controller, VP Operations, Team Lead Estimation, North American Sales Director, and President