Discover the Formed Elbows and Special Pressing Advantage at Conrex Steel
We specialize in Formed Elbows (smooth flow) and other Special Custom Pressing. We utilize innovative processes and customized equipment to form uncommon shapes whether Hot or Cold formed. Our unique capabilities allow us to build tooling and dies to help achieve your desired results and our presses can form from ¼" to 7" thick. That means we've got you covered for most projects. Our team will analyze your drawings and specifications and recommend formed products for your process and performance improvements.
Smooth Formed Elbows: Non-standard diameter smooth elbows for process industries and oil refineries (formed in segments). Our Formed Elbows diameter ranges from 32" and up. These types of elbows provide smooth flow and can be constructed as reducers where one end has a different diameter than the other. We construct them in as few pieces as possible, to help minimize total length of welding and additional costs associated with it.
Flued Holes: Formed flue holes on any head can help eliminate costly forgings as well as the cost associated with fit up and welding of it to the head.
Unique Shapes whether for a one-time job or production type numbers are within our capabilities.
Our presses go up to 3500 tons and we have multiple furnaces if you require hot forming.
We have the ability to form all metals from Carbon and Stainless to Clad, Titanium and HY Grades.
Whether you're an Architect, Engineer or an Artist, Conrex Steel has the experience and capabilities to form your design and make it a reality. We build tooling to suit the desired shape, form the steel, and trim and bevel to customer's drawing. We are a steel former so whatever unusual shape you can dream up we here to make it real. Please send in your inquiries here.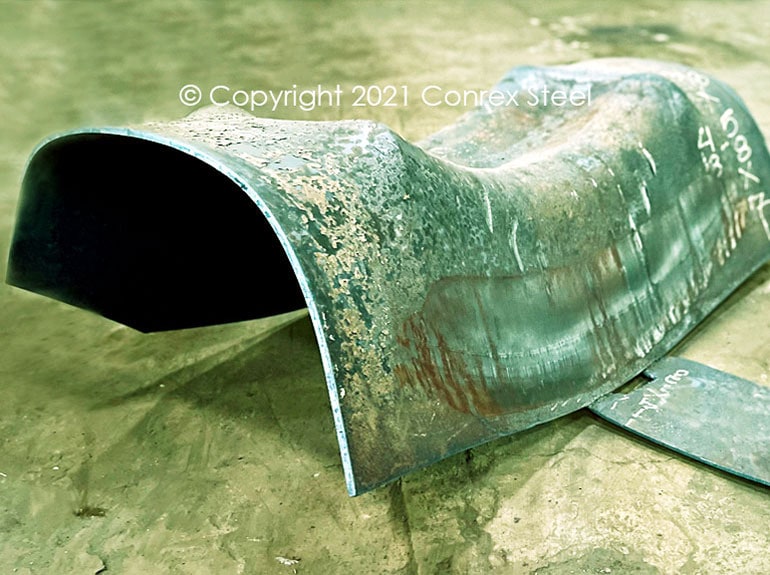 Custom Formed Saddle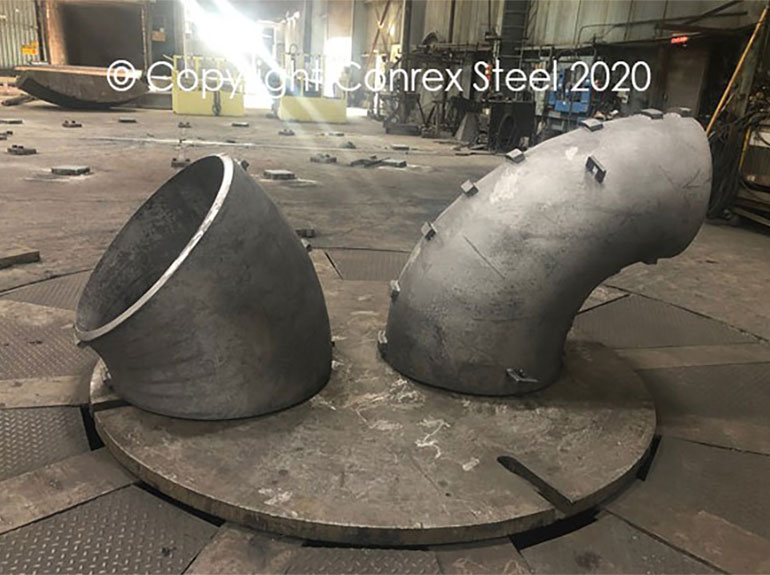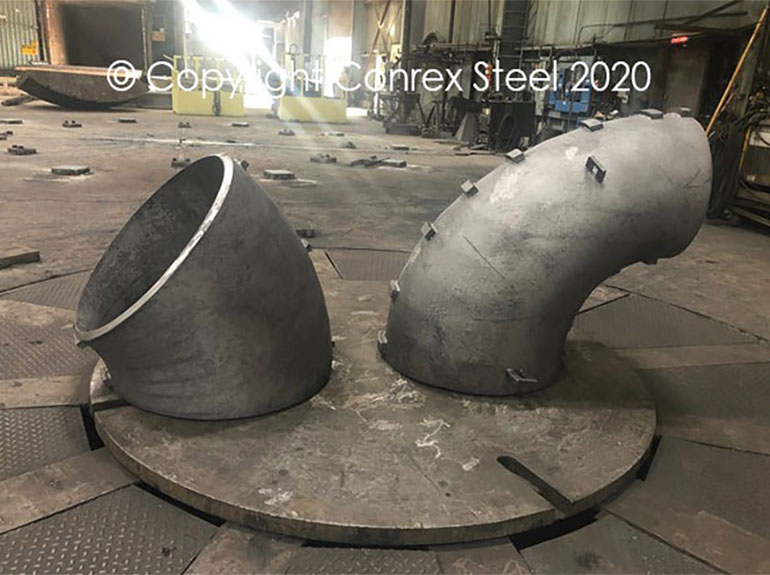 Large smooth flow elbows being trial fitted in house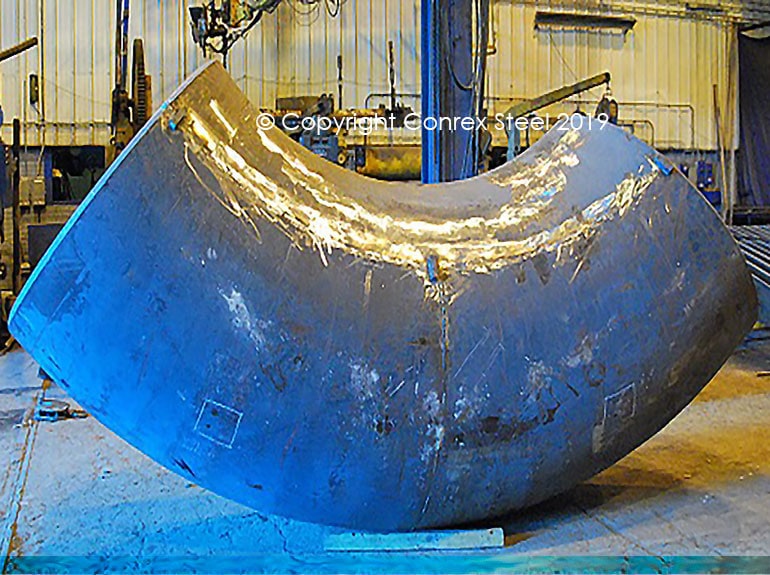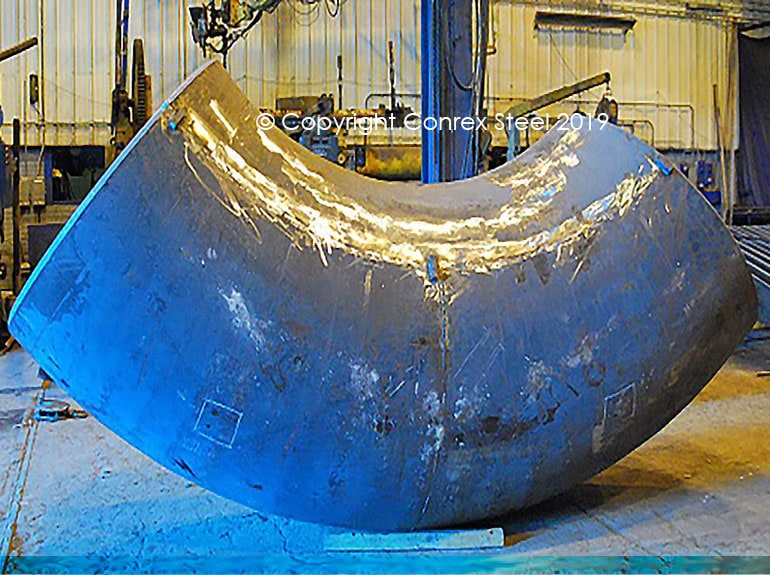 Large 2 piece constructed formed elbow formed by Conrex Steel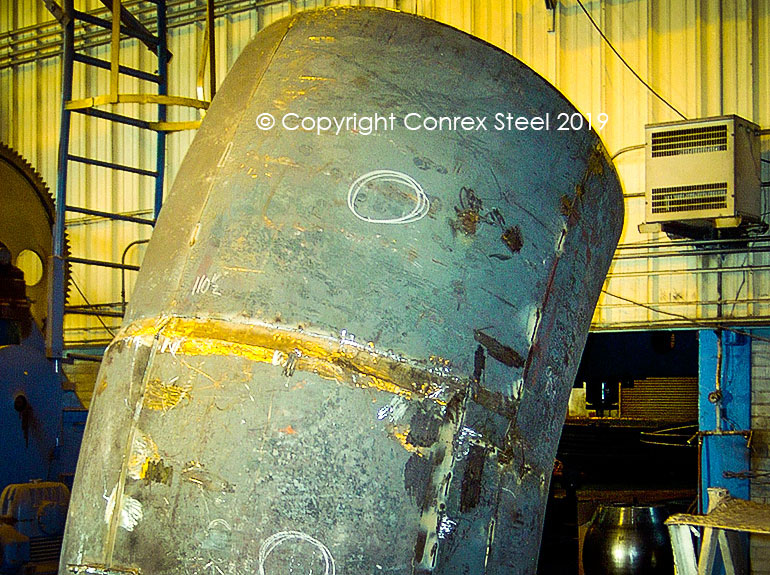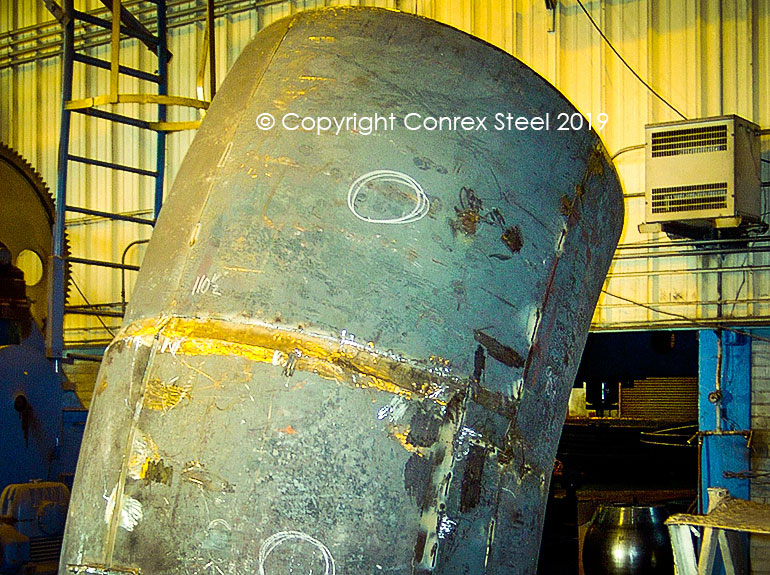 Large Elbow formed in segments by Conrex Steel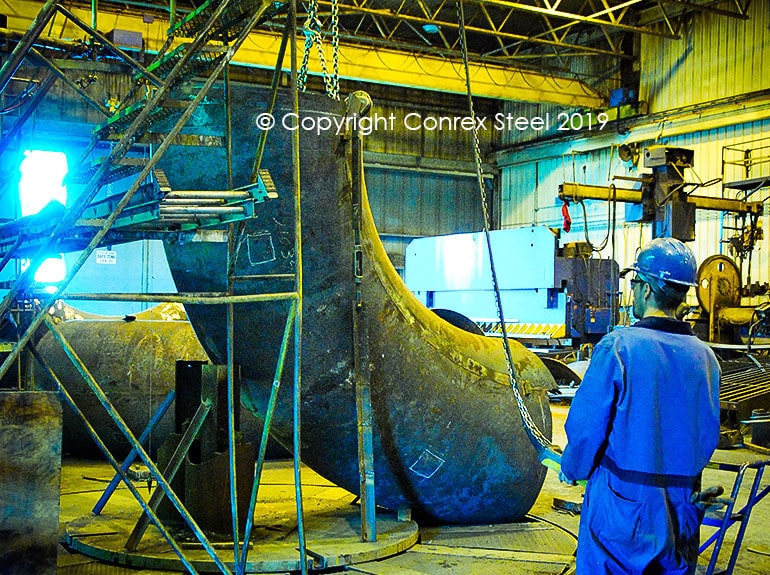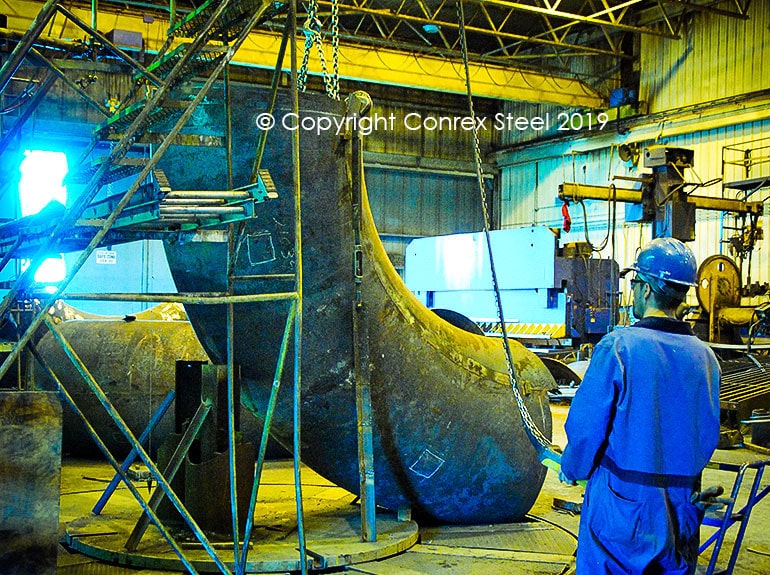 Final trial assembly of a smooth flow elbow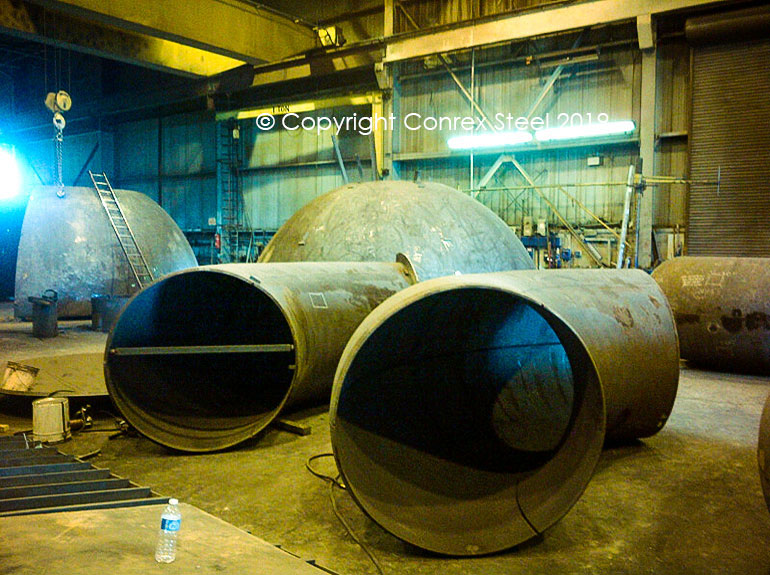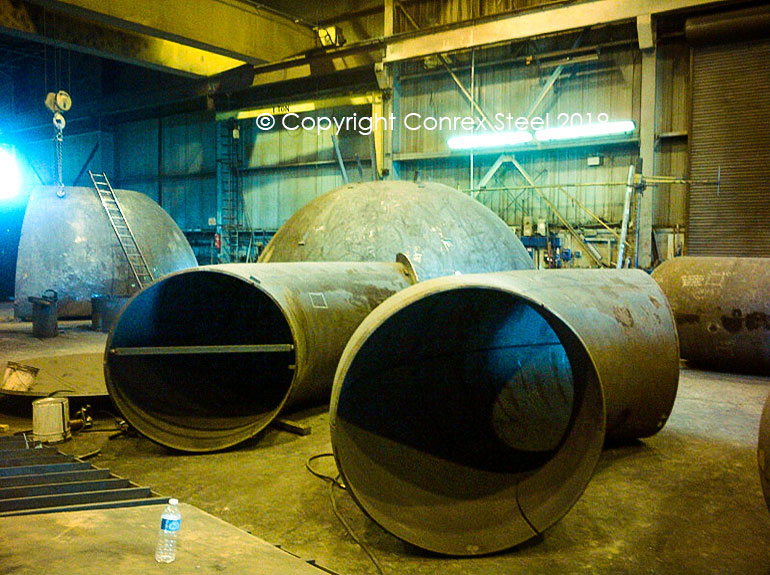 Large Elbow formed in segments by Conrex Steel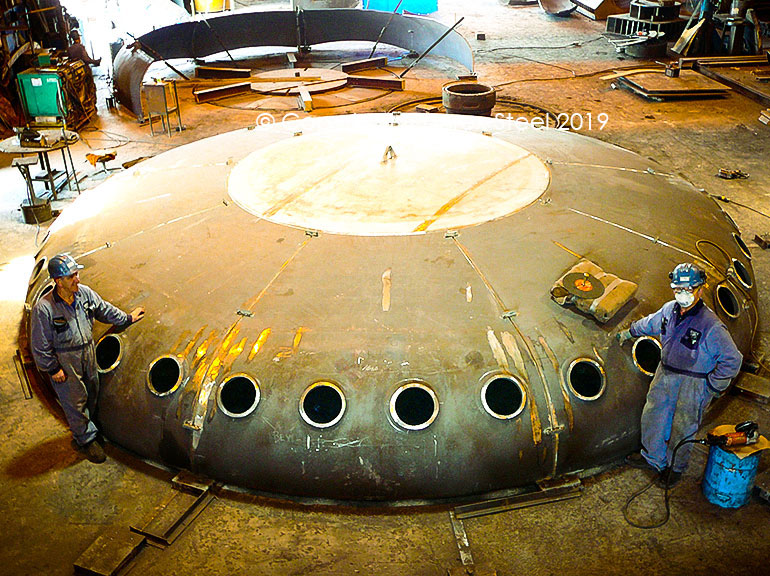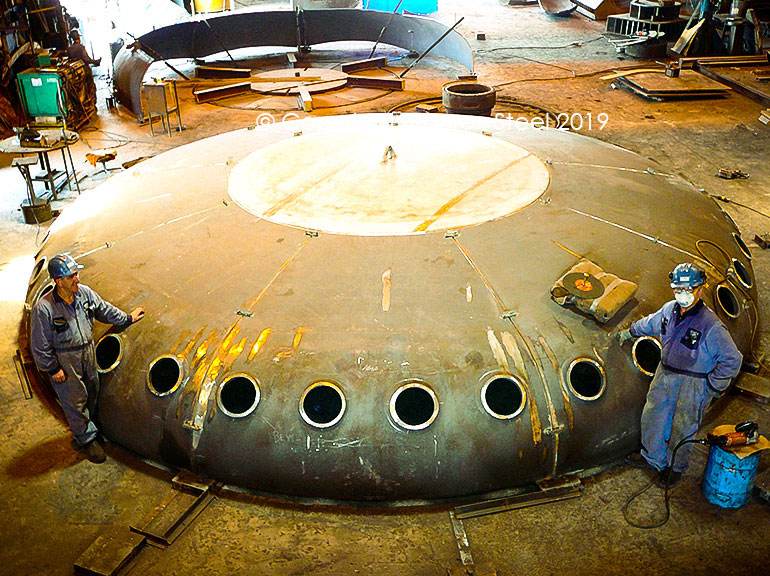 Flued holes being cut on a multi segmented tank head
Robotically precise holes cut in heads. Single holes. Multiple holes. Whatever your needs, our engineers are ready to make it happen.
WHY HOLES IN HEADS?
Pressure vessels sometimes require holes cut in the top and bottom. From military applications to your backyard barbecue holes cut in the heads must be absolutely precise.
Holes are also cut in heads are also used to allow access to the inside of vessels.
WHY ROBOTICS?
Holes can be cut manually, but frankly that's pretty old school and a challenge to health and safety. At Conrex, we pride ourselves on our innovative approach and our investments in the newest technologies. That's what our customers have come to expect. So, when it comes to cutting holes in heads, robotics means faster, more accurate cuts, custom bevels, and less shop time resulting in quicker delivery times.
Unlike other shops, we boast an 8-axis system and can cut multiple holes per head.
We can cut standard holes, and also add a bevel to the hole.
The style, shape, angle, really anything you can imagine, we can cut.