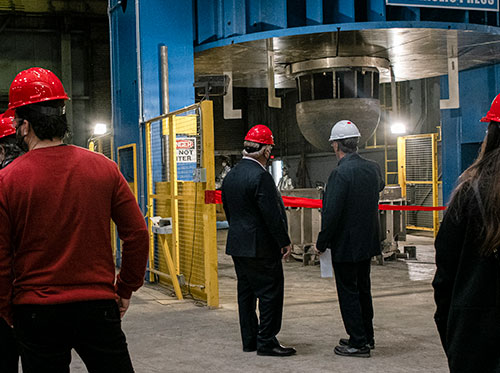 On Friday, November 19, 2021, Conrex Steel officially inaugurated their brand new 3500 Ton Hydraulic Macrodyne Press, representing a new era in steel head manufacturing.
This new behemoth now allows customers to order heads that are 1.5" to 7" thick with internal dimensions as much as 196 inches.
The ribbon cutting ceremony was attended by Ontario Premier Doug Ford, who spoke about Conrex Steel's business innovation and job creation in Ontario.
Construction of the press began in early 2020 just as the pandemic shut businesses down. Contractors who were to dig the foundation were no longer able to begin work. With uncompromising safety protocols in place, the dedicated Conrex team set out to dig the foundation themselves. The foundation is 22 feet by 29 feet and as deep as 18 feet in some places.
"This press represents a huge step forward for Conrex as head manufacturing leaders in all of North America" said Larry Harrison, President of Conrex Steel. "It's a shining example of the innovation, expanded capabilities, and customer service we're well known for." He added, "It also represents the dedication of our people, some of whom have been with us for decades".
This ambitious project included the repurposing of Conrex Steel's C-Press with two new Gantry Cranes, which allow them to form steel up to 40' long with just one operator.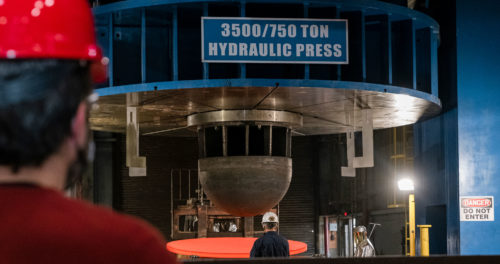 The Macrodyne press is the latest in an ever-growing suite, including a 1500 Ton hot forming press, a 600 Ton C press, 5 flangers, and 2 robotic arms that bevel edges and can cut holes in heads. This flexibility allows for almost limitless customization, such as sphere forming, ship building, and large formed elbows.