Conrex Recognizes an Exceptional Career!
Our history of quality and precision is only as good as the people behind it. People who care about every inch of steel that leaves our bay doors. It's all for not, if it wasn't for the years of experience that have earned us the right to be called the North American leader in the Tank Head Industry.
Bill Seyffert is one of those people.
When Bill started with the organization back in 1968, Lester B. Pearson was Prime Minister. The Montreal Expos were introduced as the first Canadian Major League Baseball team. The Apollo 8 mission was orbiting the moon, and Bill, well, Bill was just looking to start work.
Like his father before him, Bill Seyffert came to this organization with a skill set and a passion for quality. As a testament to his pride and dedication to quality, Bill is known for his practice of taking a picture of every head that he completed. He continued this custom over the last several years and needless to say, he has amassed a large personal portfolio.
Bill, as always, remains humble about his contribution to the business, and when asked about his long career with the organization, Bill simply, but genuinely said:
"It provided me a home, and a family"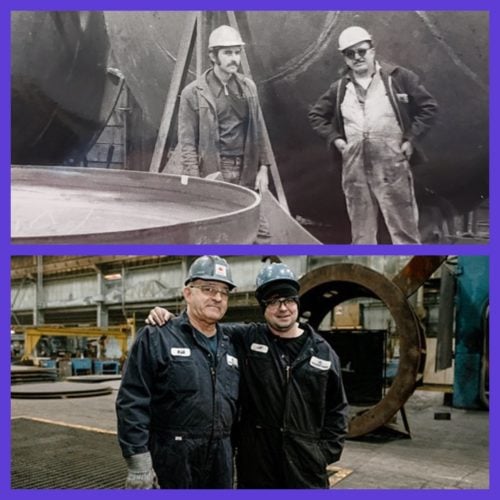 52 years, and thousands of heads later, we now have the opportunity to celebrate his long history with us. Bill's dedication to our business and the team has had a significant impact over the years to say the least. Over the course of his career, he has offered his vast knowledge and expertise to the future "Bill's" of Conrex, to ensure that our commitment to innovation and quality remain ongoing with our dedicated team, and ensure our continued growth in the industry.
"Bill is a true blacksmith, and lessons learned from him will take us into the future with confidence"
Says Derek Torraville – Plant Manager Conrex – Toronto
"Bill was a talented craftsman that truly understood how metal formed, moved, and solidified under heat and pressure.  His reputation allowed him to be a true mentor to those who have joined Conrex in the last 10 years"
Says Larry Harrison – President of Conrex
On behalf of Conrex Steel, we would like to thank Bill for his dedication to our success, and wish him and his family a healthy and enjoyable retirement.
You are always welcome here Bill!
Conrex Steel Ltd. is an ASME Code Head Fabricator for the Tank & Pressure Vessel industry. They are also known for fabricating Formed Elbows and have capabilities like Special Forming, Stress Relieving and Shot/Grit blasting.  For more information please contact us directly.